About us
Area Office has been foundered off the back of over 20 years experience in the Retail and Office Furniture space. Not only do we work hard in the industry, we work smart.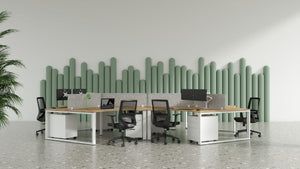 Work Smarter Not Harder
Area Office specialises in supplying commercial quality office furnishings to businesses and consumers through our easy to navigate online store.

We select our furniture with one  benefit to you in mind... for you to work smarter not harder and each working day more enjoyable and productive for you and your team.
Area Office is an Australian-owned and operated company that places client satisfaction at the centre of its success. We provide hundreds of high-quality office furniture and can assist you whether you need a single desk and chair or a whole commercial fit-out.
Our team's steadfast dedication to customer service extends beyond the mere provision of office furniture. It revolves around securing your absolute satisfaction throughout your engagement with us. From the moment you delve into our selection of office furnishings to the eventual setup of your chosen pieces, our committed team is at your disposal to assist, respond to enquiries and manage any concerns that may arise. 
We place your needs at the forefront, delivering tailored assistance and solutions that align with your specific needs and requirements. When it comes to acquiring office furniture in Australia, you can count on us to make your journey seamless and satisfying.
We offer a flat-rate metro delivery service in Melbourne, Sydney, Queensland, Canberra, Adelaide and Perth. With click & collect and assembly services available, we help you work smarter, not harder.
100% Australian Owned & Operated
Area Office is a 100% Australian owned and operated company that prides itself on customer service.
Quality Office Furniture
Our website offers hundreds of quality office furniture products all sourced from Australian suppliers.
Installation
We have installers Australia wide that can fit out your entire workplace leaving you more time to work on your business.
Product Range
Our product range is continually growing to accommodate the diverse needs of our customers with warehouses conveniently located in Sydney, Melbourne, Adelaide, Brisbane and Perth 
Delivery Made Easy
No matter if you are in Brisbane, Sydney, Melbourne, Canberra, Perth, or somewhere in between – we ship and deliver amazing office furniture all across Australia! If you are tired of that old office, need a new height adjustable desk, or fitting out an entire office floor, you can find everything you need here.
Commercial Fit-outs
We can offer inhouse design services, installation and assembly competitive flat rate delivery service working with our distribution partners to ensure your orders arrives as soon as possible. Be one desk and chair to complete commercial fitout with 3D design services. To find out more information about what we do, please refer to our website. We can offer you flat rate metro delivery service in Melbourne, Sydney, Queensland, Adelaide and Perth.